Did you see "Tanzaku" which is strips of paper in Japan?
It is for "Tanabata".
It is Tanabata on July 7th which is today, and it is the Star Festival in English.
Tanabawa was born from the legend of Orihime(represents Altair) and Hikoboshi(represents Vega).
Orihime and Hikoboshi fell in love and were so crazy about each other that they could not focus on their work.
The heavenly gods got angry and separated Orihime and Hikoboshi onto the different sides of Ama no gawa (the Milk Way).
And they can meet only one time a year, and it is July 7th.
We put up bamboo decorations to celebrate the reunion of Orihime and Hikoboshi on Tanabata.
It is believed that your wish will come true if you write it on the Tanzaku and hang it on the bamboo sticks.
If you find "tanzaku", please write your wishes.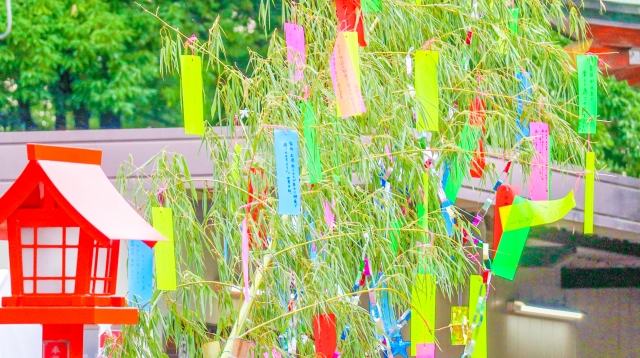 ===================
NS Global Agency 日本語クラス(Japanese language/Culture class)
TEL: +81-50-5309-3846
Mail: contact@nsglobalagency.com
Homepage:https://www.nsglobalagency.com/
Facebook: https://www.facebook.com/nsglobalagency/
Instagram: https://www.instagram.com/nsglobalagency/
#AO入試, #Japanese, #Japaneseculture, #Japaneselanguage, #Language, #Lesson, #Trial, #オンライン, #中学受験, #作文, #受験作文, #大学受験, #小論文, #日本語, #海外, #自学, #自習, #英語, #高校受験